ATELIER D'ESTAMPE IMAGO INC
Contact
Jennifer Bélanger, directrice
Atelier d'estampe Imago
Centre Culturel Aberdeen
140 rue Botsford, local 17
Moncton, NB, E1C 4X5
T: 506-388-1431
E: atelierestampeimago@gmail.com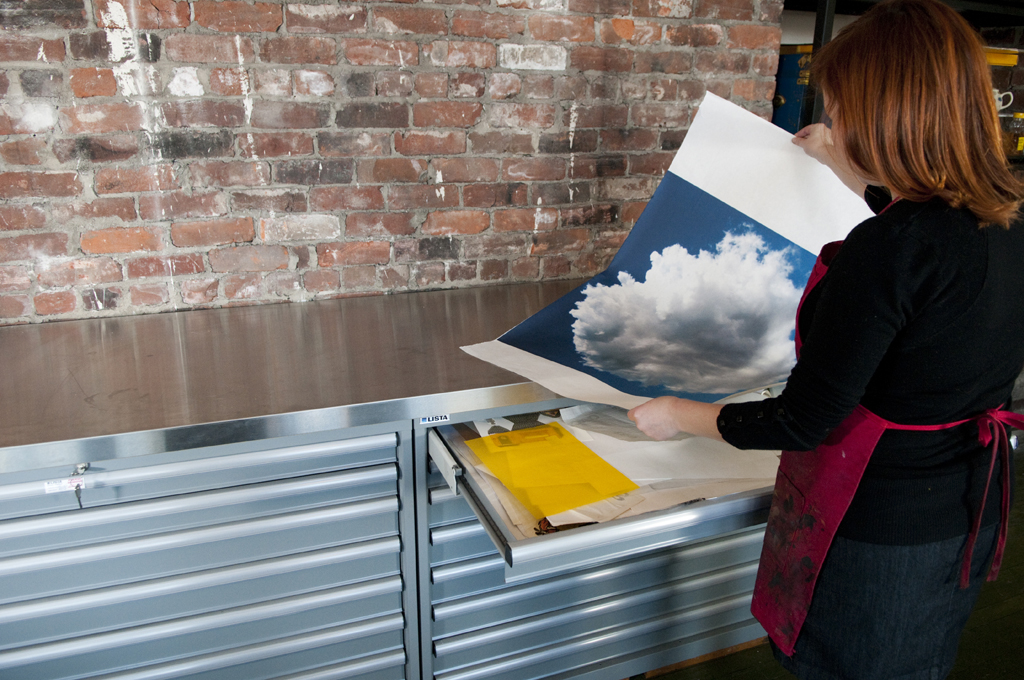 Estampe actuelle. A different look at printmaking.
Étant le principal centre de production en estampe dans les provinces de l'atlantique, Imago se distingue par son interdisciplinarité, son ouverture sur d'autres médiums et sa capacité de sortir de son espace de travail pour rejoindre le public.
Being the leading artist-run printshop in the Atlantic provinces, Imago distinguishes itself through its openness to other mediums, its interdisciplinary approach and its capacity to go outside its four walls to meet with the public.
mago est un centre de production voué au développement et à la diffusion de l'estampe et de l'art imprimé. Le centre offre un lieu de recherche, un atelier fonctionnel et une programmation qui reflète les tendances actuelles en arts visuels. En plus d'offrir un laboratoire de création et d'expérimentation à travers son programme d'artistes en résidence, ses conférences d'artistes, ses ateliers, ses expositions et ses projets de création interdisciplinaires, Imago encourage et appui des artistes de différentes disciplines à explorer les possibilités de l'estampe.
Imago is a production centre devoted to the continued development and dissemination of print. As a laboratory for creation and experimentation, Imago recruits and entices artists from other disciplines to explore the many facets of contemporary printmaking through workshops, conferences, artist residencies and interdisciplinary creation initiatives. The centre offers members, guests, and visiting artists a research facility as well as a functional studio all the while maintaining programming which reflects the ever changing world of contemporary printmaking.
ATLANTIC FILMMAKERS COOPERATIVE
Main Telephone: (902) 405-4474
Fax: (902) 405-4485
Mailing Address: P.O. Box 2043, Station M, Halifax, Nova Scotia, CanadaB3J 2Z1
Courier/Office Address: Suite 101 – 5663 Cornwallis Street, Halifax, Nova Scotia, CanadaB3K 1B6
www.http://afcoop.ca/
Atlantic Filmmakers Cooperative
ABOUT AFCOOP
AFCOOP is an accessible member-run centre for the production and presentation of creative films. We offer an e-newsletter, two web sites, socials, screenings, festivals, and volunteer opportunities in a collaborative, learning environment that acts as a resource centre for media artists where people can meet, network, view films, and exchange ideas. AFCOOP also has the most accessible film production equipment and facilities in Nova Scotia, providing our members and the public with access to a wide range of equipment and facilities at reasonable rates, 24-hours a day.
We are a registered charity with a commitment to diversity, inclusion, and equity. Our use of peer assessments for grant and program applications strengthens the quality of our decision-making, our engagement in professional arts practitioners, as well as our relevance and responsiveness. Innovation and creative control are the most important considerations when AFCOOP awards financial grants and program entrances.
Our organization's core activities are film production programs, workshops, and screenings, including the 16mmOne Minute Film Program, the 35 mm FILM 5, the Filmmaker In Residence Program, and the Open Grants Program. These activities serve filmmakers and media artists at all experience levels and all ages, including under-served and Aboriginal artists through various outreach programs. AFCOOP also offers dynamic programs for artists of other disciplines to try filmmaking for the first time, and we provide outreach programs to develop new audiences and new artists. AFCOOP annually presents one of the largest slates of film workshops in Canada, covering a myriad of topics, and our film training programs are some of the most comprehensive in the country. Our screening presentations are diverse, challenging, and engaging.
Artistic development and expression and the pursuit of excellence and innovation is at the heart of AFCOOP. Media artists at all levels of development receive funding, equipment, training and education, and professional presentation opportunities through AFCOOP. Our staff works to create opportunities so that filmmakers can control more of the process of creating and screening artistic and challenging films of exceptional quality.
ARTSPLACE
Board and Staff
Brian Muszkie, Chair
Niki Clark, Past Chair
Hilary Jamnik, Vice Chair
Ted Lind, Treasurer
ames Lightle, Secretary
Suzanne Lee

Sophie Paskins, Gallery Director

Artist-run Centre / Exhibitions Committee
Pat Lohrenz, Chair
Ruth Bull
Wayne Boucher, RCA
Ted Lind, ARCAC Board rep.
Sophie Paskins, Gallery Director
 
Contact ARCAC
Telephone: 902-532-7069
Mail: Box 534, Annapolis Royal, NS
B0S 1A0, Canada

The Offices are open Mid Jan - Mid December. Closed on Statutory Holidays.

Summer Office & Gallery Hours June 1 - August 24 2017:
Monday CLOSED
Tuesday - Thursday 10 am - 5:00 pm
Friday 10 am - 7:30 pm
Saturday 10 am - 12 & 1 pm - 5:30 pm
Sunday 11 am - 12 & 1 pm - 6:30 pm (except June 18 & Aug. 20)

Regular Office & Gallery Hours Jan - May 31 / August 25 - December 20:
Monday CLOSED
Tuesday-Friday 10 am - 12 / 1 - 4:30 pm
Saturday 1-4pm (Saturday is staffed by volunteer, call ahead)
ARTSPLACE ARTSPLACE IS A PUBLIC ART GALLERY THAT IS OPERATED BY THE ANNAPOLIS REGION COMMUNITY ARTS COUNCIL.
ABOUT US
The Annapolis Region Community Arts Council (ARCAC) is a registered non-profit, charitable, community organization dedicated to encouraging and promoting the arts. Located in the beautiful Annapolis Valley, Nova Scotia; a place that artists seem to be naturally drawn to, ARCAC was founded by a group of artists in 1982. They began meeting in Annapolis Royal to explore ways of sharing their work and ideas with one another and with the community at large. They felt that if art was to survive as living cultural force, artists should take the first step toward demystifying the practice of art.

ARCAC has developed a province-wide and national reputation for being able to generate interesting activities and opportunities within the community. Our membership currently comprises over 200 individuals and families who believe that involvement in the arts makes life both rewarding and fun. We run a year round schedule of workshops, classes, concerts,"coffee house" evenings, readings, slide shows, talks and special events. Through our Scholarship Fund, we assist students of all ages who wish to pursue art-related courses of study.

ARTsPLACE Artist-run Centre is run by an Exhibitions Committee of the ARCAC Board, comprised 100% of artists, to support and encourage serious artistic endeavours at all levels and of all sorts. Our exhibition schedule has been designed to reflect the role ARCAC plays as intermediary between the contemporary art world out there and the local community. ARTsPLACE is funded in-part by the Canada Council for the Arts, the Province of Nova Scotia and fundraising endeavours.
CENTRE FOR ART TAPES
Contact Us
2238 Maitland St
Halifax, NS, B3K 2Z9
Give us a call at (902) 422-6822, or email info@cfat.ca.
Our hours of operation are:
Tuesday: 9:30–5:00
Wednesday: 9:30–5:00
Thursday: 9:30–6:00
Friday: 9:30–5:00
Saturday, Sunday, Monday: CLOSED
About CFAT
Vision Statement
CFAT is an inclusive artist-run centre that supports artists who use video, audio, and electronic media to express ideas and stories that are under-represented in mainstream culture. CFAT is devoted to the exchange of ideas among diverse artists through experimentation, mentorship, presentation, and research.
Mission Statement
CFAT supports artists working with media technologies by providing subsidized public access to professional equipment, facilities, technical expertise, educational resources, mentorship, and other forms of professional and creative support. Through its organizational structure and its activities, CFAT strives to put marginalized artists into the centre of discourses and practices of media art. CFAT is transparent and accountable in its decisions, governance and finances.
CONNEXION ARC
for general inquiries: info (at) connexionarc.org
CONNEXION OFFICE :
we are located at 65 York Street, Fredericton, NB.
our office is open from 12 am – 4 pm, Tuesday to Friday,
or by appointment, or by chance.
EXECUTIVE DIRECTOR :
Kasie Wilcox
BOARD OF DIRECTORS :
Christina Lovegrove Thomson, President
Jennifer Lee Wiebe, Vice President
Kathryn Dimock, Tresurer
Kelly Hill, Secretary
Janice Wright-Cheney, Programming Chair
Robin Goodine, Communications Chair
Nat Perry
Rüdi Aker
Hassan Arif
Jeff Crawford
About Connexion Artist-Run Centre
Connexion ARC (Artist-run Centre for Contemporary Art) is a not-for-profit, charitable, artist-run centre that supports and promotes the development and understanding of contemporary art. The centre is a non-commercial art project space, currently operating in a flexible manner without a fixed location, in Fredericton, New Brunswick.
By building strategic partnerships with collaborating businesses, organizations and institutions, and by emphasizing exchange within our expanding community of artists, curators, partners, and international visitors, Connexion ARC is activating new spaces for public engagement with contemporary and experimental visual art practices, from across the country and abroad.
As a member-driven organization, Connexion ARC supports the artistic and professional development of contemporary artists in Fredericton, and in the Atlantic Region, by fostering opportunities for our members to engage in programming, to receive critical feedback, to expand their professional networks, and to build ties within the community.
We are committed to,
Promoting experimental contemporary art practices, with an emphasis on emerging artists and ideas.
Providing a supportive, open, and equitable space for the discussion of contemporary art.
Operating in a generative, responsive, and flexible manner, mirroring the experimental nature of contemporary art
Developing, promoting and disseminating of the contemporary arts profile of New Brunswick and NB-based artists.
We graciously acknowledge the support of the Canada Council for the Arts, the Government of New Brunswick, individual project sponsors, and our active membership.
We graciously acknowledge that the land on which we gather is the traditional unceded territory of the Wolastoqiyik (Maliseet) and Mi'kmaq peoples.
EASTERN EDGE
Visit
Eastern Edge Gallery
72 Harbour Drive
St. John's, NL A1C 1B1
Canada
www.easternedge.ca
12 – 5pm
Wednesday – Saturday
Contact
t. 709.739.1882
f. 709.739.1866
gallery@easternedge.ca
ww.easternedge.ca
Postal address
Eastern Edge Gallery
P.O. Box 2641, Station C
St. John's, NL A1C 6K1
Eastern Edge, established in 1984, is Newfoundland and Labrador's first artist-run centre for visual arts.
Eastern Edge Gallery is nestled between an empty horizon and a barren landscape looking across the Atlantic ocean towards the rest of the world. As close to international atlantic art communities as we are to national, since 1984 EEG has bridged the Atlantic divide. Our island location is a haven for independent artistic activity; drawing artists who want to be challenged to create in an environment where pragmatic, uncompromising dedication to personal vision is celebrated. Committed to creative research, generation and presentation of contemporary art, we are witnessing what can happen at the intersection of rural and urban practices. As the provinces only artist run gallery we are a hub of community driven creation; the primary location to discover new emerging art; a place for artistic experimental presentation to engaged audiences.
EYELEVEL
Drop by Tuesday to Friday 12noon to 5pm. The office holds the publicly accessible Eyelevel Bookstore and Members Gallery.
Office
Suite 101 - 5663 Cornwallis Street
Halifax, NS B3K 1B6
902 425 6412
director@eyelevelgallery.ca
Online
www.eyelevelgallery.ca
EYELEVEL
EYELEVEL
Eyelevel is a not-for-profit charitable artist-run centre dedicated to the presentation, development and promotion of contemporary art. Through a range of programming initiatives such as exhibitions, performances, and special projects, Eyelevel has established itself as a supportive environment that fosters the research and development of innovative artistic practices. We have provided a forum for the discussion and presentation of contemporary visual art in Halifax for more than 40 years.
Eye Level Gallery Society evolved from Inventions Gallery, established in 1972 by a group of women artists. In 1974, Inventions changed its name to Eye Level Gallery Society and opened its membership to include all genders. The centre offered an alternative to the mandates and practices of established art institutions. In addition to its visual arts program, Eyelevel sponsored other cultural activities including music and dance performances and media arts projects. This support led to the development of two other artist-run organizations in Halifax—Live Art Dance and the Centre for Art Tapes. Eyelevel is a member of the Atlantis (the Association of Artist-Run Centres from the Atlantic). Eyelevel recently dedicated its program to projects outside of a formal gallery space. Our office space remains a hub for our membership and the public, providing access to The Eyelevel Bookstore and Members Gallery. Members opportunities as broad and wandering as our exhibition program now fall under the responsibilities of the Engagement Committee.
Eyelevel programs primarily in K'jiputuk (Halifax) a city situated on unceded Mi'kmaq territory. We gratefully acknowledge the support of the Canada Council, Arts Nova Scotia, Halifax, our members, donors, and volunteers.
GALERIE SANS NOM
Galerie Sans Nom
Centre Culturel Aberdeen
140, Botsford Srteet, #13 & 16
Moncton, NB
E1C 4X5
Tel : 506.854.5381
Hours:
Tuesday and Wednesday 10 am to 5 pm
Thursday and Friday 11 am to 7 pm
Saturday by appointment
 
Historique
Établie afin d'appuyer l'exploration de nouvelles formes d'expression et de pratiques, la Galerie Sans Nom (GSN) sert d'instigateur au renouvellement artistique depuis ses premières activités en 1977. Les activités de la GSN sont régies par le mandat de pourvoir aux services de galerie «parallèle» ou «alternative»; exposer un art contemporain multidisciplinaire et expérimental. À l'écoute de ses membres et de sa communauté, la GSN est centrale au développement des arts actuels et à l'épanouissement des artistes acadiens et néo-brunswickois.

La programmation du centre correspond aux orientations générales suivantes :
Présenter des expositions ou manifestations pertinentes au milieu reflétant les tendances artistiques contemporaines de la scène nationale ;
Élargir le public des pratiques artistiques actuelleset développer sa connaissance et son appréciation ;
Appuyer le développement des nouvelles directions en arts visuels en encourageant et en participant au discours critique ;
Soutenir la création artistique des membres, tant les artistes professionnels, qu'émergents, et faciliter la diffusion de leur travail ;
Encourager et appuyer le développement de la scène culturelle locale, particulièrement les projets de collaboration entre diverses disciplines ;
Faciliter les échangeset les collaborations, localement et dans l'ensemble du pays ;
Être à l'écoute des membres et de la communauté et répondre à leurs besoins divers ;
Promouvoir un environnement de travail créatif et dynamique et voir à la saine gestion administrative et financière de l'organisme pour en assurer la pérennité.
La programmation est composée d'expositions, de festivals, de résidences d'artistes, de publications et de conférences. Les activités du centre concernent en particulier les arts visuels, mais s'étendent aussi vers les nouvelles pratiques et l'interdisciplinarité. Les chevauchements entre disciplines et les rapprochements de recherches de diverses pratiques, tels la musique actuelle et l'art sonore, font également l'objet d'un intérêt particulier.

Les expositions dans l'espace principal illustrent les tendances actuelles, mais doivent aussi correspondre aux intérêts et pratiques des artistes et de la communauté desservis par le centre. Un jury, composé de membres du conseil d'administration, d'employés et d'artistes invités, sélectionne cinq ou six propositions parmi les projets soumis suite à un appel lancé dans la communauté, à travers le pays et à nos collègues à l'international. Les membres du jury évaluent la qualité de la recherche, la pertinence d'avec le milieu et le souci de l'espace et de la présentation, tout en composant une programmation équilibrée en termes de pratiques et de discours. Les membres du jury doivent posséder une bonne connaissance de la pratique actuelle et sont sensibilisés à la représentation équitable. Seules cinq ou six propositions seront retenues sur plus de cent dossiers reçus annuellement.

Le conseil d'administration, de concert avec les employées, détermine la direction artistique générale des présentations du centre. Desservant un public varié dans un contexte où très peu d'art actuel est vu et discuté, le centre est soucieux de présenter du travail d'artiste qui correspond à une certaine réalité tout en privilégiant les propositions qui questionnent les conventions et les codes sociaux, s'inscrivant dans un champ esthétique important des arts visuels actuels.

La GSN gère aussi un lieu d'exposition dédié aux artistes en début de carrière. Dans le but d'appuyer le développement professionnel de jeunes artistes, la Salle Sans Sous est un lieu ouvert aux artistes préparant une première exposition. Ici aussi, toutes les pratiques sont admises, l'accent étant mis sur les projets de recherches qui poussent les limites de la démarche de l'artiste.
Depuis plus de sept ans, la GSN collabore à la présentation du volet Arts médiatique cadrant dans le Festival international du cinéma francophone en Acadie. Des expositions, des programmes de vidéos, des conférences et autres sont présentés, situant l'apport des arts médiatiques à l'avancement et au renouvellement du cinéma. La commissaire du projet privilégie aussi une programmation contribuant au développement de la pratique chez les artistes acadiens.

Dans le cadre de la programmation 2007-2008, un nouveau lieu de présentation de vidéo et d'art sonore a été inauguré, l'espace audio-vidéo. Proposant l'oeuvre d'artistes marquants des arts médiatiques au Canada, le projet est accompagné d'une série de conférences d'artistes et de commissaires. La première programmation était construite autour de vidéos fortement liées à la performance. Cette direction vient nourrir le travail de recherche du centre et des artistes de la communauté sur la performance et les nouvelles pratiques interdisciplinaires. En 2009-2010, cette programmation est composée par cinq commissaires invités issus de communautés canadiennes diverses. Cette direction sera maintenue pour la programmation de l'espace audio-vidéo en 2010-2011.

Plusieurs activités du centre concernent la performance et les nouvelles pratiques interdisciplinaires. Souvent combinés à l'exploration de l'art dans l'espace public, les projets proposés tendent à faire éclater le cadre traditionnel de l'art tout en élargissant les possibilités d'interventions artistiques dans le quotidien. Ces activités favorisent la réalisation de nouvelles initiatives d'artistes, puisque la GSN peut offrir des ressources de production, ainsi qu'un contexte de diffusion propice à des projets inusités.

Sentant un besoin pressant pour l'appui d'initiatives de recherche en art sonore, ainsi qu'un contexte de promotion et de présentation de la musique actuelle, la GSN entreprend une programmation annuelle qui met de l'avant diverses formes musicales et pratiques en art sonore. Composé autour de l'objectif de créer un réseau à l'Est de festivals et de diffuseurs pouvant accueillir les artistes invités, le festival RE:FLUX présente, entre autres, des concerts, des performances, des installations, des résidences d'artistes et des ateliers scolaires.

L'encadrement critique, comme les conférences et les publications, ainsi que les résidences d'artistes sont un champ d'intérêt important du centre et un lieu d'action en cours de développement. Dans les dernières années, le centre intègre à son fonctionnement des projets de publication et initie des projets de résidence d'artiste. Déjà, la présence des artistes invités à divers éléments de la programmation est bonifiée en proposant systématiquement des conférences sur leur travail. Ces conférences permettent de situer le travail de l'artiste dans une démarche et d'ouvrir sur des échanges et des débats sur la pratique des arts visuels.

Afin d'être bien ancrées dans la communauté et de rejoindre un public diversifié, certain, des activités du centre sont réalisées en collaboration avec d'autres organismes. Travaillant ainsi de concert avec une multitude d'organismes oeuvrant en différents domaines artistiques et culturels, la GSN se forme une meilleure connaissance de leur fonctionnement, développe des outils de gestion dans d'autres secteurs et accède à de nouveaux auditoires.

En tout temps, le centre est soucieux de maintenir la qualité des présentations et de répondre aux besoins changeant des artistes et des pratiques. Ainsi, nous nous assurons d'aménager les espaces afin qu'ils s'adaptent bien aux diverses conditions d'exposition et faisons l'acquisition d'équipements audio/visuels. Nous avons aussi exploré les pratiques qui s'inscrivent en dehors des lieux habituels de l'art et, en travaillant de près avec une diversité d'artistes, avons développé une sensibilité aux conditions de présentation dans divers types de lieux.
History
Galerie Sans Nom (GSN) was created in 1977, amidst controversy. Graduating students at Université de Moncton's Department of Visual Arts had been denied an exhibition by the administration, who felt the proposed content was inappropriate. GSN was thus created to reflect trends that did not fit elsewhere. On November 13, 1979, GSN was officially established as a cooperative. It filled a pressing void and became a laboratory for the exploration of all disciplines of contemporary visual arts. Salle Sans Sous (penniless room) was created in 1982, allowing GSN to also support and exhibit the work of emerging artists.
As the single Acadian infrastructure dedicated to presenting Canadian contemporary art, GSN is now responsible for three exhibition spaces and its programming includes new practices in various disciplines including visual arts and media arts.
Over the past thirty years, GSN has gained wide recognition by hosting artists from all regions of Canada and from the United States, Latin America, Europe and Japan, as well as presenting Acadian art across the country and abroad through numerous travelling exhibitions, including Expo Quinze, Itinéraire 12 and Géographie du regard, and public art events such as Leurre juste. In its work as a resource centre for contemporary Acadian art production, GSN takes part in large-scale projects and events that contribute to the development of the Acadian community and the advancement of the arts in Canada.
Since the end of the 1980s, GSN has its headquarters at the Aberdeen Cultural Centre, joining some thirty other cultural organizations and artist studios as one of Canada's most remarkable cooperatives. GSN also cultivates a broader and more diversified audience by organizing exhibitions in non-dedicated settings and in cooperation with other groups. GSN is an avid supporter of artists' initiatives and is active in a variety of disciplines as it strives to meet the changing needs of a diverse community in a fast-growing urban environment.
Located in Moncton, New Brunswick, GSN has a diverse membership that includes francophone and anglophone artists as well as artist of other cultures, mostly from New Brunswick but also from Quebec, Newfoundland-and-Labrador, Prince Edward Island and Nova Scotia. The centre is particularly concerned with providing support to emerging and next generation artists and ensuring their integration and participation. While its communications are in both official languages, Galerie Sans Nom enhances contemporary francophone and Acadian culture and participates in its presentation at the national level.
GSN is affiliated with associations of artist centres and arts organizations, including AARCA: The Association of Artist-Run Centres from the Atlantic, and the national Association des groupes en arts visuels francophones (AGAVF), to better represent its community on the public scene and at various levels of government.
KHYBER CENTRE FOR THE ARTS
CONTACT:
1880 Hollis St. Halifax NS B3J 1W6
902.817.6620 | info@khyber.ca

Hours by appointment, except during exhibitions.
Exhibition Hours:
6-9PM Monday
12-5PM Wednesday-Saturday
http://www.khyber.ca/
STAFF:
Hannah Guinan, Artistic Director (director@khyber.ca)
Jade Peek, Events and Outreach Coordinator (events@khyber.ca)
Calen Sack, Program Assistant (info@khyber.ca)
Natalie Slater, Bookkeeper
BOARD OF DIRECTORS:
Craig Leonard, Chair
Mallory Ross, Treasurer
Jess Ross, Secretary
Cassie Packham, Primary Program Chair
Nathan Doucet, Community Events Chair
Carmella Farabakhsh, Care Rep.
Alyssa Robichaud, Members Rep.
Nick Dourado
Isabelle Ofume
Joanne Kerrigan, NASA Chair
ABOUT
THE KHYBER:
-an artist-run centre for non-commercial work and the coordination of disparate events
-a not-for-profit charitable organization that pays fees to artists according to CARFAC standards in its Primary Program
-an arts facility developed in 1994 by the No Money Down Cultural Society, a group of artists who negotiated an agreement with the City of Halifax to maintain the city-owned and then unoccupied 3-floor heritage building located at 1588 BARRINGTON
-established in 1995
MISSION
The Khyber's mission is to foster critical thought, facilitate creative dialogue and support artistic experimentation through the public presentation of contemporary art. The Khyber actively and continuously will hold a pro-survivor framework and an intersectional, anti-oppressive, anti-racist analysis in its programming and operating.
MANDATE
The Khyber's mandate is to present contemporary visual art, which exists in a wide variety of disciplines. We challenge traditional gallery conventions, encourage public understanding and appreciation of contemporary art through responsive and relevant programming. The Khyber works to prioritize, centre and promote the presentation of work by emerging and marginalized local, national and/or international artists. Additionally, we aim to recognize and disrupt systemic forms of oppression, which include but are not limited to: racism, white supremacy, sexism, heterosexism, cissexism/transmisogyny, tokenism, ableism, ageism, sizeism, sexualized and all acts of violence and harassment. This will be implemented through anti-oppressive policy and practices through Khyber programming, operating and in relation to staff, Board members and artists presented. The Khyber provides a physical and flexible space for the support of socially-engaged Primary and Membership programming, as well as cultivating relationships with a variety of arts communities that engage in artistic research, experimentation, production, education and distribution.
LA MANIVELLE ATELIER D'ESTAMPE & LA GALERIE DETRAQUE
http://lamanivelle-cab.blogspot.ca/
À être annoncé
To register or for more info contact:


Diane Nadon
Coordinatrice de programmation
La Manivelle
Conseil des Arts de la Baie
Université Sainte-Anne, Boîte 232
Pointe de l'Église, N.-É.
B0W 1M0
902-769-2114 poste 7262(CAB/Manivelle)
769-3510(maison)
PERSONNE CONTACT:
Diane Nadon
dianenadon5@gmail.com
1 902 769 3510

La Manivelle est un atelier d'estampes géré par des artistes et attaché à l'éducation, à la collaboration et à l'innovation. Il offre des installations de gravure en creux et en relief et se concentre sur l'élaboration et l'échange de nouvelles techniques et approches de la gravure.
La Manivelle a un programme dans le cadre duquel elle accueille chaque année un artiste en résidence ou dans le cadre d'un échange.
La Manivelle is an artist run printmaking studio committed to education, collaboration, and innovation. It provides facilities for intaglio and relief printmaking and focuses on the development and exchange of new printmaking techniques and approaches.
La Manivelle hosts a yearly artist in residence/exchange program.
LE TRECARRE GALERIE D'ART CONTEMPORAIN
http://letrecarre.blogspot.ca/
La galerie Le Trécarré est une galerie gérée par des artistes et située dans la communauté acadienne rurale de la baie Sainte-Marie, en Nouvelle-Écosse. Elle se trouve sur le campus de l'Université Sainte-Anne et a pour mandat d'exposer les artistes et les habitants de la région à des œuvres d'art contemporain d'artistes canadiens et internationaux. Elle a aussi pour mandat de fournir l'infrastructure et les programmes nécessaires pour encourager l'exploration et l'innovation afin d'offrir le contexte culturel approprié pour faire avancer une expression artistique pertinente, informée et active.

Le Trécarré is an artist run gallery located in the rural Acadian community of Baie Sainte- Marie Nova Scotia. Situated on the campus of Université Sainte-Anne, Le Trécarré's mandate is to expose local artists and residents to Canadian and international contemporary art; provide the infrastucture and programming needed to encourage artistic exploration and innovation; present the cultural context needed to further the appreciation and development of a relevant, informed, and active Acadian voice.
ST. MICHAEL'S PRINTSHOP
St. Michael's Printshop
72 Harbour Drive, 2nd Floor
P.O. Box 193, Station C
St. John's, NL, Canada
A1C 5J2
Phone: (709) 754-2931
Fax: (709) 754-4910
Lynn Panting, Executive Director
lynn@stmichaelsprintshop.com
St. Michael's Printshop isan artist-run print studio which provides professional fine art printmaking facilities for established and emerging artists. A lure for printmakers who crave a space in which to create art surrounded by the extraordinary natural landscape of the North Atlantic, the Printshop also attracts visuals artists who wish to explore printmaking as a new medium for the first time through workshops with local and visiting printmakers.

STRUTS GALLERY & FAUCET MEDIA ARTS CENTRE
http://www.strutsgallery.ca/
Contact
Struts Gallery & Faucet Media Arts Centre
7 Lorne Street
Sackville, NB
E4L 3Z6
(506) 536-1211
Program Manager: Amanda Fauteux
info@strutsgallery.ca
Media Arts Manager: Ryan Suter
faucet@strutsgallery.ca
Technical Associate: Todd Fraser
todd@strutsgallery.ca
Board of Directors:
Kaeli Cook
Paula Jean Cowan
Anne Herteis
Andrea Mortson
Jerry Ropson
Gallery Hours: 1pm – 5pm Monday to Saturday
Office Hours: 9am – 5pm Monday to Friday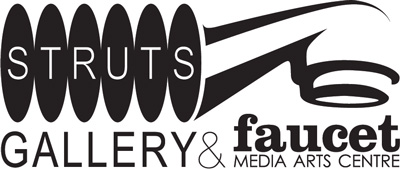 Established in 1980, Struts Gallery & Faucet Media Arts Centre is an artist-run centre and the only media arts centre supporting all forms of media art in Atlantic Canada including audio, film, video, and new media.
Struts & Faucet is dedicated to:
Presenting exceptional contemporary art to the public through exhibitions, artist residencies, screenings, and performances.
Providing public workshops on a wide variety of contemporary art methods and concepts.
Facilitating public artist talks and lectures by artists and arts professionals.
Operating a resource library of contemporary film and video and texts on contemporary art, and;
Promoting the development of media art by providing training, facilities and specialized equipment.
Struts & Faucet is a member of the Association of Artist-Run Centres from the Atlantic, the Atlantic Provinces Art Gallery Association, and the Independent Media Arts Alliance.
THIRD SPACE
Contact
Third Space
89 Canterbury St., Suite 407
Saint John, NB
E2L 2C7
Executive Director: Emily Saab
tiersespace@gmail.com
Board of Directors:
Christiana Myers (president)
Maggie Higgins (vice-president)
Julie Whitenect (treasurer)
Kasie Wilcox (secretary)
Erin Muir (communications officer)
Mary Fleet (member at large)
About
Third Space is an itinerant artist-run centre for contemporary art in Saint John, committed to representing local, regional and national professional contemporary artists.
Third Space will highlight the work of emerging and established artists who cross disciplines and boundaries in their examinations of contemporary culture. The aim of the Third Space is to facilitate the education, understanding and appreciation of contemporary art at a local, national and international level. It will do this by hosting exhibitions, workshops, residencies, lectures, performances and screenings, as well as by publishing and disseminating materials relevant towards this aim.
Third Space will strive to present a schedule of balanced programming while allowing space for community-based events. Through a rigorous and attentive selection process, its programming will present art-making of an advanced and critical nature.
Main Objectives
To present work that is exploratory, challenging and critical in nature.
To present work that questions and confronts social and political agendas.
To present work that may not be commercially viable.
To provide a standard of excellence.
To encourage exploratory and hybrid curatorial practices.
To develop creative partnerships and collaborations.
To be treated in a fair and professional manner.
To be remunerated based on CAR/FAC payment schedules
To be an open, inviting and inclusive space; everyone is welcome.
To ensure a variety of educational and community-sensitive programming.
THIS TOWN IS SMALL
this town is small inc.
Board of Directors 2017 – 2018
Leonard Paul MacPherson – Co-chair – Writer / Actor / Musician
Monica Lacey – Co-chair – Visual Artist / Interdisciplinary
Jennifer White – Treasurer – Associate Member
Sandi Hartling – Director – Visual Artist / Interdisciplinary
Stephen MacInnis – Director – Visual Artist / Painting
Donnalee Downe – Peake Street Rep – Visual Artist / Interdisciplinary / Educator
Russel Louder – Student/Emerging Rep – Visual Artist / Interdisciplinary / Musician
Program Director – Becka Viau – Visual Artist / Inter-media
this town is small is an artist-run non-profit organization dedicated to increasing public awareness and understanding of contemporary art forms. Serving as a vehicle for communication among artists and between artists and the community this town is small encourages collaboration between all art forms to strengthen the position of contemporary art in P.E.I. and the Atlantic region.